Summer is here and the only thing more exciting than dashing through the sprinklers on hot days, is cooling off with a fresh lemonade. We recently enjoyed some delicious lemonade at our local playground and decided to set up our own stand on Broadway this weekend. It's not hard to get a lemonade stand going, but some research and planning will make the experience enjoyable and stress-free for all.
Rules for Kid-Run Lemonade Stands in NYC
You don't see many lemonade stands in Manhattan, but it's a great place to be selling lemonade because there is so much foot traffic, you are almost guaranteed success. Technically, to sell beverages or food, one needs to obtain a city vendor food permit. In NYC, police have not actually shut down a kid-run stand, and the one time they did, the judge ruled that the police "overreacted". Not surprisingly, I have never seen a kid-run lemonade stand actually be licensed, or shut down by the police (though it does happen in other cities), so let's do some digging on Google, shall we?
Local Restrictions on Kid-Run Concession Stands
There is no definitive list of rules for a kid-run concession stand in NYC - just this very formal process on obtaining a concession in NYC.
We weren't clear on the rules when we set up our lemonade stand, but we were prepared to shut down in case we were told to. Luckily, the whole community was excited to see us on the sidewalk, and we managed to raise $50 in the one hour that we were out there.
Raise Money for Charity With Your Next Lemonade Stand
The best way to teach kids about helping other people is by engaging them in fun activities that benefit other people. For your next Lemonade Stand, why not let your child pick a charity to donate the earnings to. There are many great non-profits that have Lemonade Stand kits - our favorite at Alex's Lemonade Stand and the Robin Hood Foundation.
Alex's Lemonade Stand was started by a 4-year old cancer survivor. She made it her mission to eradicate childhood cancer, and her efforts have resulted in a nationwide movement of mini-lemonade stands that help raise awareness and funds for research, which has raised millions of dollars to fund childhood cancer research. It's easy to register, and they will mail you a kit that you can use to decorate and promote your event, as well as, provide you with a fundraising web page, which your kids can customize.
The Robin Hood Foundation, which fights poverty in NYC, has a great "Lemonaid" program, complete with a set of signs, stickers and eye-opening stats on poverty in New York. This is great for older children, as they can truly grasp the consequences of poverty and understand how important their lemonade business really is. 
 (Source: The Robin Hood Foundation)
Take your efforts to the next level by bringing some fresh lemonade, and any left overs, to your local shelter. Your children will see first hand how a simple gesture can help bring a smile to someone's face and make them appreciate their own blessings. Find a shelter near you, here.
Recipes for Truly Delicious Homemade Lemonade
Skip the supermarket's sugary lemonade and make your own. This is a great opportunity to teach your children about wholesome ingredients and taste-test one of the most refreshing beverages there is. Get creative, add some mint, use Meyer lemons, add berries, lavender, watermelon or oranges, decorate with lemon slices...the possibilities are endless. Here some delicious recipes worth giving a try:
Make Your Lemonade Stand a Success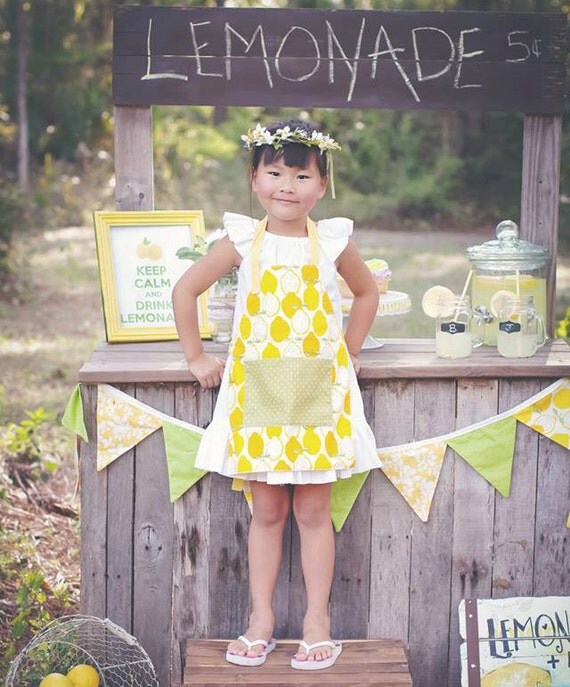 (Get your kids outfitted in these cute handmade lemon aprons by 7PineDesign on Etsy)
Find a safe, shady, spot with lots of foot traffic. Near a playground, around Columbus Circle, down in Nolita (corner of Prince & Mulberry), there are literally endless kid-friendly spots for a lemonade stand in New York. Weekends are best, as there are lots of families out, and try setting up 10am - 5pm. We had our stand running for only 1 hour, 11:30am - 12:30pm.

Put some effort into the decorations with coordinating glasses, napkins and straws (my favorite place to stock up on party supplies is

Just Artifacts). How about a cute lemon garland?  (Photo Credit: Courtney Orillion on Etsy)
Of course, you can spend countless days on Pinterest getting inspired to throw the perfect lemonade stand party - and then go about planning it as if it were your firstborn's 1st birthday party...cue mental picture:  (Photo credit: frogprincepaperie.com)
Enlist younger kids to pour lemonade with child-sized pitchers. I found these sturdy glass mini pitchers on Amazon. You are probably thinking I'm crazy for using glass pitchers, but I am trying to avoid plastic wherever I can, and these aren't delicate pitchers...they are made to last. 
Entertain younger siblings with sidewalk chalk - let them attract customers with sidewalk chalk art, and bright arrows pointing to your stand. We had our bucket of Crayola chalk, but next time, I'll be making my own side walk chalk - how cool is this?! Get the recipe here.  (Photo Credit: Playfullearning.net)
No table? No problem. We used a small IKEA bench for our lemonade stand. Dreaming of building your own real lemonade stand, like they do in the suburbs? I did, for about a minute, and if I could, I would consult with these hardworking kids who did an amazing job building their lemonade stand from scratch. Well done, guys!

Bring chairs for the kids AND grown ups, ice in a cooler, wipes, paper towels, hand sanitizer, hats, sunscreen and water.

Don't forget to bring your toy register. We love our IKEA DUKTIG toy cash register - it was great to practice important math skills. Keep your eye on the money, bring some change with you and make sure a grown up is always monitoring the cash. Your stand can easily raise $100, and that's no joke.
Get inspired for your next lemonade stand...
Follow BORN ON BOWERY's board ◅ ◂◅◂ L E M O N S ▸▻▸ ▻ on Pinterest.  
I hope you and your children enjoy this summer and give lemonade stands a try. Send your photos and favorite tips on running your own lemonade stand.